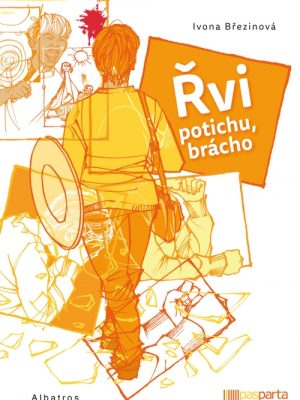 Original title: Řvi potichu, brácho
Publisher:
Albatros&Pasparta Publishing, Prague
,
2016
ISBN: 978-80-00-04322-7(Albatros) and 978-80-88163-24-4 (Pasparta)
Illustrations: Tomáš Kučerovský
Age: 9+, Children's Literature
Award:
Golden Ribbon Prize
Teachers' Prize
Librarians' Prize
Rights sold:
Polish, Slovak, Macedonian, Romanian, Slovenian, Serbian
A story about the everyday life of an autistic boy
Fourteen-year-old Pamela lives with her mother and her twin brother Jeremiáš. He has suffered from low-functioning autism and severe mental retardation since birth and requires the observation of strict rules and rituals: each day of the week has its own colour, cars always have to be parked the same way and Jeremy, as Pamela's brother is known, refuses to eat anything that isn't round. This results in some difficult-to-handle situations, which the author relates with the necessary detachment. She also gives us a glimpse into other areas of Pamela's life, matters of friendship and love. This realistic but in no way tragic book shows how, despite its challenges, living with a severely disabled brother is possible thanks to understanding and a loving family background.
The story of an ordinary family affected by life with an autistic person is told by Ivona Březinová very convincingly and without embellishment. However, so as not to just impress upon young readers the difficulty of living with someone who is disabled, she also includes Pamela's experiences with her classmates and the fate of her distinctive first love. So this book will move you and have you in tears, but it will also make you laugh out loud.