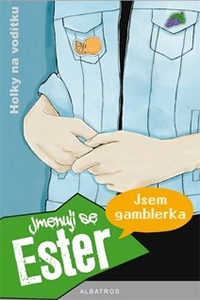 My Name is Ester. I am a Gambler
Original title: Jmenuji se Ester – jsem gamblerka
Publisher:
Albatros, Prague
,
2017
Children's Literature, Age: 12+
How does it happen that a young girl slides into a serious addiction? How does it feel to be a gambler, a bulimic, a drug addict? Which ways lead out of an evil spiral back to a happy, self determined life?
One of the most prominent Czech children's books authors, Ivona Březinová, deals with these questions in a very authentic and sensitive way. In her trilogy she tells three stories of girls affected by pathological addiction: Ester—a gambler, Alice—a drug addict, Martina—a bulimic.
In each of the books the plot develops in two time lines; the first takes place in a psychiatric hospital. Since the three girls meet there during their treatment, this timeline unifies all three stories. The second time line consists of the therapy diary of the girl featured. In the diary, the life destinies of the girls and the events that led to their addiction are depicted. A gripping and helpful read.