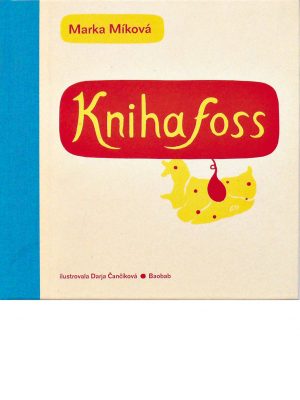 Original title: Knihafoss
Publisher:
Baobab, Tabor
,
2007
Illustrations: Darja Čančíková
Age: 6+, Children's Literature
Award:
Nominated for Magnesia Litera, the most prestigious Czech literary award.
Included in the White Raven catalogue of notable titles deserving worldwide attention.
Inspired by the landscape of Island, t
he book adds up to an absolutely unique achievement in Czech contemporary children's literature.
T
his book allows the readers to jump between chapters, depending on what they would like to know. 
The main protagonist and narrator is a seven year old girl named Hredka, whose name actually means "Radish" in Icelandic. That day Hredka takes her skateboard to school as usual. But then she makes a strange turn, and finds herself in a different world altogether. Strange things start happening to her. She begins transforming: first into a radish, then into a red stripe in a rainbow, into a red jacket…
She alternates between watching the world from the outside, and jumping right into the story. Along the way she finds a new friend, Godir, who keeps disappearing in a different time and space, just like Hredka herself; but they can always find each other again.
In the end, Hredka manages to get back to her own world, onto the sidewalk outside her house, and back on her skateboard.
Even though Marka Míková would insist that the landscape of her book comes strictly from the Never-Never Land, she cannot deny inspiration from the landscape of Iceland, devoid of trees and studded with geysers and hot water springs. In her rendition, the place becomes one where ancient stories blend with everyday life, a place where everything is possible, even travelling back in time, swallowing a fish, speaking to a puffin in a lighthouse, passing through a closed door, or playing in the ice with dwarfs. Readers can immerse themselves in the land of the book, and wander it as they choose.