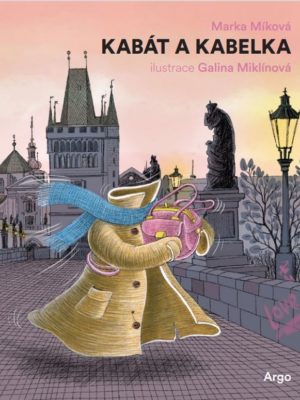 Original title: Kabát a kabelka
Illustrations: Galina Miklínová
Age: 6+, Children's Literature
A coat and a handbag fall in love. A tender, poetic
and
slightly
crazy
story
about love, community and happiness in pandemic times
.
The two get to know each other on the bus.
Very s
oon
there is
a spark
between them
. But before they get together, each of them experiences incredible adventures. And psst,
inside the handbag
is
living
a mouse
.
The coat and the handbag have liked each other since they first met on the bus. But their ways part. The handbag involuntarily turns into a bird's nest and together with the mother bird she looks after the chicks until they are fledged. The coat is found on the river quay by a fisherman, who puts him on. Later he warms a man weary of life, then a homeless man. He also climbs onto a roof and lets the wind carry him above the city.
Eventually the handbag and the coat find each other again and become inseparable. They have fun together in the city streets. And they make sad people laugh who have to keep their distance and wear masks. At the end the two help a young couple expecting a child to get to hospital in time.