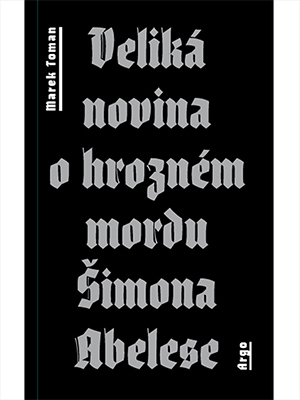 The Big News about the Dreadful Murder of Šimon Abeles
Original title: Veliká novina o hrozném mordu Šimona Abelese
Publisher:
Argo, Praha
,
2014
Rights sold:
Polish, German
A novel about distorted rights, intolerance and manipulation of public opinion.
The novel takes place in two time levels. The first one, set in the late 17th century, is the story of Šimon Abeles, a 12-year-old Jewish boy, who dies after his decision to convert to Christianity. A politically motivated murder trial starts unfolding, accusing the father and fuelling an anti-Jewish atmosphere in the society. Thanks to the trial, Šimon becomes a martyr. This story is based on facts. The second storyline takes place in present times and is fictitious. An anthropologist dealing with the history of Šimon Abeles and searching for his remains in Teyn church in Prague suddenly finds himself in almost the same situation as the father of Šimon Abeles—he loses his own son, who has played a computer game based on Christian-Jewish hostility. Gradually the two stories merge.
Undoubtedly, this work is of fine literary and historiographical quality.