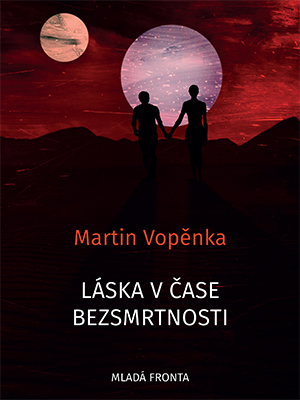 Love in the Time of Deathlessness
Original title: Láska v čase bezsmrtnosti
Publisher:
Mladá fronta, Prague
,
2019
A philosophical story from the future about the desire for eternal youth and immortality
Far into the future, the Romeo and Juliet of this story belong not to feuding families, but to estranged human civilisations in the galactic era. The fundamental question that divides the two civilisations is purely philosophical: it relates to immortality and the afterlife.
While Ron's civilisation, inhabiting the planet Syrus, believes in the continuation of life in a heavenly order after death, Jelsa's civilisation on Oxydus battles with death—striving for immortality, and has managed to greatly prolong human life.
The story begins, however, a hundred years before Ron and Jelsa's fateful love affair. At this time the scientist of genius Alvarez constructs what he calls the psycholab, a machine that can communicate the quantum spiritual basis of consciousness and the whole universe to anyone who enters it. The machine is able to see these quanta from within – because its core is a living human brain.
Vopěnka's admirable imagination entangles the reader in philosophical questions related to life and death, as well as in scientific knowledge—after all, the author studied physics and mathematics.