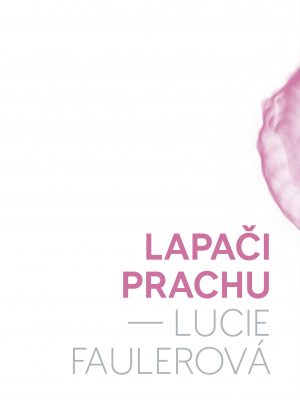 Original title: Lapači prachu
Publisher:
Torst, Prague
,
2017
Award:
Nominated for Best Work of Prose in the most prestigious Czech literary award, the Magnesia Litera, in 2017.
Rights sold:
Spanish, German, Bulgarian, Egyptian
With an atmosphere reminiscent of David Lynch's Twin Peaks, this novel explores the ancient theme of crime and punishment within the family.
Twenty-eight-year-old Anna answers the phone on an information line and lives alone in an apartment full of knickknacks gathering dust. Apart from her sister, Dana, she barely sees anyone else, occupying her time with a stream of sardonic internal dialogue.
Anna is a wounded soul, marked by the trauma of childhod violence. Her father died a sudden death. Was it natural or a murder? If it was a murder, was her mother the killer, or Anna herself?
The answer remains a mystery.
Anna's is not the only voice in the novel addressing the reader. There is also a narrator, and his version of events is always slightly different than the one Anna presents. Maybe he is giving the authoritative account; maybe he is a figment of Anna's imagination, or the voice of her subconscious? Who knows?
Anna's thoughts whirl and flare, memories tucked deeply away emerge, punctuated with pangs of conscience and feelings of self-hatred as Anna dies over and over again, the cause of death different each time.
Lucie Faulerová's novelistic debut was a much-talked-about event on the Czech literary scene. With skill and bravado, the author takes a sideways approach to the theme of guilt and punishment, placing unreliable narration, the manipulation of truth, and the relativity of memory and reality center stage. Faulerová's protagonist exposes her interior to the reader with a masochistic gusto, holding nothing back. Critics compare her writing to that of star poet Melissa Broder and the feminist theorist and visual artist Audrey Wollen, creator of "Sad Girl Theory."
The author is able to make the powerful and weighty subject matter more than a moralising story of domestic violence and life crises. […] An exceptional combination of talent and craft.
Dust Collectors is inward-looking, crystal clear literature.
A demanding, uncomfortable and extremely unusual read about distorted self-perception, unresolved childhood trauma and its repression. And an author who effortlessly manages to fool her readers in a sarcastic way and to create a rebellious character that you will not soon forget. An author definitely worth reading, and I am really looking forward to seeing her other works!
Great, extraordinary reading fun that no one should miss.