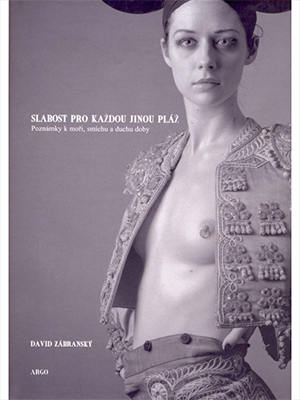 Original title: Slabost pro každou jinou pláž
Publisher:
Argo, Praha
,
2006
Award:
The book received the Magnesia Litera prize in 2007.
Rights sold:
The book was published in Hungary in 2014.
The author's debut discards the established clichés of Czech Prose. Elegantly and humorously, using an original novel form – a bildungsroman without morality and development – it projects the lives of intentionally schematic characters, symbols and victims of their cultures onto such diverse topics as suffering, tourism, Auschwitz and kindness, the end of history and make-up.
We read about East and West and the illusions of one in regard to the other, about women's magazines, long-distance adoption, Auschwitz, Mahler, Wittgenstein, Hitler, revolution … about thoughts which we are afraid to voice. And what of the whole? It is a spectacular evocation of an age whose spirit is difficult to grasp, an age desecrated by ideology and advertising, an age simultaneously absurd and tragic.
While certain readers may not wish for further deliberations on who is to blame for Auschwitz, they may be fascinated by the stories of a number of people from different corners of today's Europe who have one thing in common – they are lost in the monotonous motions of the economic machinery of that very Europe.
This is a well-informed work with a highly cultivated voice.